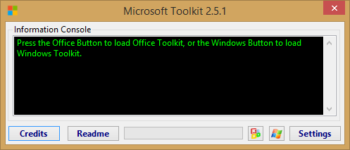 There are hundreds of articles and videos out there on how to activate Microsoft products using Microsoft Toolkit.
One of the most comprehensive ones is the following youtube video.
https://www.youtube.com/watch?v=C3f414UAWYM
To cut a long story short, Microsoft Toolkit is a freeware application that can be used to activate all versions of both Windows and Office. Special
care is needed regarding the download location since the vast majority of themare bloated with adware and broser hijackers. You can safely download
it form the following link:
The toolkit actually combines two of the most famous activation modules AutoKMS and EZ-Activator into a single one.
The following short description is from www.microtcs.com
AutoKMS
AutoKMS is a scheduled task that will renew your 180 day KMS activation. Unlike other KMS activators, AutoKMS does not run 24/7 or only at the last minute with the hope it won't fail, and leaves no traces of itself other than a scheduled task, log, and exe file. It only attempts to activate KMS licenses (which saves a lot of time if you have non-KMS licenses such as MAK or Retail active). It will run at startup, at login, and then every 24 hours and attempt KMS activation (the task schedule cannot be changed). The Install/Uninstall buttons are used to install or remove AutoKMS.
EZ-Activator
This is a simple setup for KMS Activation. Unlike previous versions, it CANNOT use KMS activation if you are using Retail License. EZ-Activator gathers information about your licensing status to provide the best method of activation. It can automatically attempt possible fixes in case of activation failure, and can reverse all changes in case of total failure. It automatically installs all KMS Keys for your system, attempts activation for only KMS Licenses, and if successful, installs AutoKMS automatically.
Activation Process
-Disable all antivirus software including windows defender.
-Launch Microsoft Tollkit. There are two icons at the bottom of the window. One is for Office activation the other is for Windows.
-Navigate to "Product Key" tab and choose the product version
-Choose the product edition and click install.
N: No Media Player
G: Goverment
LTSB: Long Term Stability. Thi sis for systems requiring a minimum set of updates (e.x. Medical equipment, ATMs etc)
-Navigate to "Activation" tab.
If AutoKMS is not installed ("Uninstall" is greyed out as in the picture above) press install.
Then press either "Activate" or the green "EZ-Activator".
That's it, you are done…enjoy….